CAOFEN F80L
>>> Available to test at Joule Motorcycles
>>> Available for local pickup or shipping Canada wide
Description
Caofen F80L is one of a kind electric enduro bike with incorporated state of the art technologies improving its durability, performance and safety.
BATTERY. The cells are submerged in dielectric crystal/amorphous cooling liquid that maintains a constantly low temperature. That doubles the life of the battery. This temperature control system allows this bike to be charged and used in temperatures to minus 40 degrees thanks to auxiliary heating.
ABS BRAKING. It is maybe the only light enduro bike with an electronic motorcycle grade brake with ABS system which can be switched on and off.
REGENERATIVE BRAKING. The regenerative braking can be activated and deactivated according to terrain conditions and rider preferences.
LOCKING SYSTEM. It has an electronic automatic locking system that locks the bike when the key is removed.
Overview
Caofen F80L Off-Road E-Bike Review
The Caofen F80L Off-Road e-bike is an exceptional off-road bike that is built to withstand the test of time. Boasting an AlMg alloy frame construction, a high charge and discharge rate battery, and an 8KW motor, this bike is engineered to conquer the toughest terrains and climates. Caofen F80L sets itself apart by offering a remarkable 2-year bumper-to-bumper warranty, a rarity in the world of dirt bikes, considering the harsh conditions they are typically subjected to.
FRAME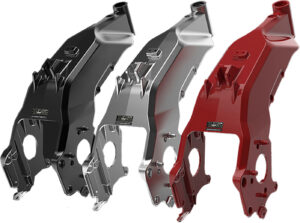 The Caofen F80L features a meticulously designed frame that follows the monocoque principle, completely eliminating welding. All components are securely enclosed within its lightweight magnesium-aluminum alloy construction.
With a weight of only 5kg, this frame utilizes an alloy that is 33% lighter than aluminum and 25% stronger than aluminum. One of the greatest advantages of magnesium alloys is their remarkable fatigue strength, enabling them to endure repeated stress without compromising integrity. This makes magnesium alloys an optimal choice for building structures exposed to frequent stress.
BATTERY
The Caofen F80L features 72V/48AH battery with total capacity of 3.5KWH. This capacity ensures a range of 80 to 120 km depending at which power setting the bike is used. The longevity of lithium-ion batteries greatly depends on the management of excessive heat. The Caofen F80L distinguishes itself as the first electric dirt bike to feature a patented immersion cooling battery system. This innovative design equalizes the temperature of the battery cells, efficiently distributing it to the magnesium-aluminum shell  which dissipates the heat. As a result, overheating at critical points is prevented, and the inclusion of fire retardant liquid within virtually eliminates any risk o4f fire or explosion. The thermal balance ensures a temperature rise that is only 50% of the normal level.
This advanced cooling and heat distribution system enables riders to tackle extreme temperature variations, ranging from -40 to +40 degrees Celsius. Additionally, this battery can be charged regularly using a fast charger without compromising its lifespan, with a charging time of only 2 hours from a 15-amp socket.
ELECTRONIC CONTROL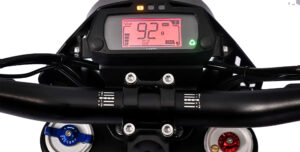 The Caofen F80L is equipped with a sophisticated control system that empowers riders to enable or disable a variety of functions. The bike features three settings, allowing users to maximize torque, speed, or range based on their preferences. Furthermore, an efficient regenerative brake system can extend range by 12%, though it can be disabled at any time. The display shows Current speed, Total mileage, Error codes, Real time output current, Battery State of Charge, trip distance and remaining distance.
Brake kill switches can also be independently disabled, granting riders the freedom to utilize each wheel's brakes without affecting the motor. As an additional security measure, an electronic actuator system locks the handlebar when the bike is not in use.
MOTOR AND TRANSMISSION
The Caofen F80L motor is designed with an axial flux winding that delivers impressive torque at low RPM which eliminates the need for two stage gear reduction. This design simplifies the transmission system while increasing overall efficiency. The gear ratio of both the front and rear sprockets enables a top speed of 85 km/h, but 13-tooth sprockets are also available to enhance torque by 13%.
Overall, the Caofen F80L Off-Road e-bike excels in durability, performance, and cutting-edge features. Its AlMg alloy frame, innovative battery cooling system, customizable electronic controls, and efficient motor and transmission make it an exceptional choice for riders seeking a reliable and thrilling off-road experience.
REVIEWS
Specifications
DRIVE SYSTEM:
Motor:

 Axial flux center motor 8KW peak power
Motor Controller:

 External FOC with dynamic vector control algorithm for speed/torque
Max Speed:

 85km/h
Max Torque:

 260 Nm
POWER SYSTEM:
Battery Pack:

 3,460 WH Lithium-Ion battery pack
Max Range:

 230 km (30 km/h, no stops)
Power System Protection:

 170A resettable circuit breaker, low-voltage cut-out (by controller), Battery protected by BMS
Charging time and charger:

 3 Hrs with fast charger iP68 water proofed
12V Subsystem Converter:

 DC/DC 72V<12V 10A
User-removable Battery:

 5min exchange time
USB Charging Port:

 Yes, 2A USB port
Brakes Hydraulic CBS and electronic ABS:

 Front brake – Right Lever – activates Racer type 240mm


 Rear brake – activates 180mm rear disk only
RUNNING GEAR:
Electric Brakes:

 Regenerative, acting on rear wheel, triggered by front or rear brake actuation
Front Suspension:

 Inverted 700mmX35mm twin internal hydraulic shocks with 200mm travel distance
Rear Suspension:

 Adjustable trailing arm over spring/hydraulic shock
Front / Rear Tire:

 2.5-19 / 2.75-18
BODY & CHASSIS:
Frame:

 Exoskeleton Aluminum-magnesium alloy
Foot rests:

 Fixed
Seat:

 Padded, double place, 76cm (30") above ground
Instruments:

 LCD display Current speed, Total mileage, Error codes, Real time output current, Battery State of Charge, trip distance and remaining distance, Ambient temperature and current time.
Safety Equipment:

 Electronic ABS brake system


 Regenerative Brake system


 Head light, horn and kickstand switch
Security:

 Keyless start, Built-in vibration sensitive alarm system with two remote controls


 Automatic steering wheel lock
PERFORMANCE
Top Speed:

 85km/h
Range with 70kg load:
| Average speed | Range per charge |
| --- | --- |
| 30km/h | 230km |
| 45km/h | 150km |
| 60km/h | 120km |
| 85km/h | 90km |
Grad-ability:

 40 degree (89%) slope
DIMENSIONS & WEIGHTS:
Weight (including Battery Pack):

 85kg (187lb)
Battery weight:

 68kg (150lb)
Wheelbase:

 1300mm (51")
Seat height:

 815mm (30")
Bike size:

 1950×785× 1070mm
Maximum Payload Capacity, Including Rider(s):

 100 kg (220Lb)
RELATED PRODUCTS:
Refferences:
Caofen F80: A Closer Look At China's Latest Electric Dual Sport
Full review of CAOFEN Motorcycle
Caofen F80 Electric Enduro Model Will Be Introduces In France
Downloads
CAOFEN F80 Owners Manual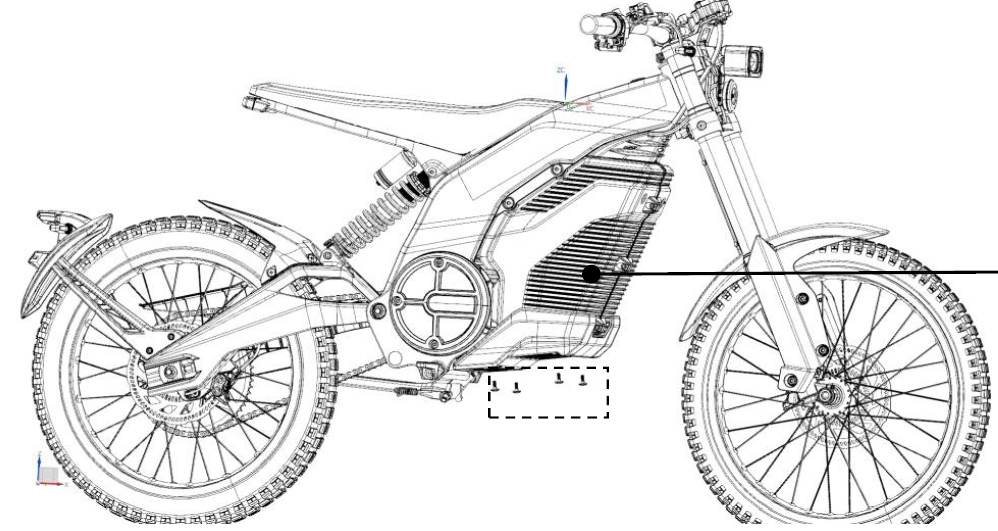 CAOFEN F80 Battery Replacing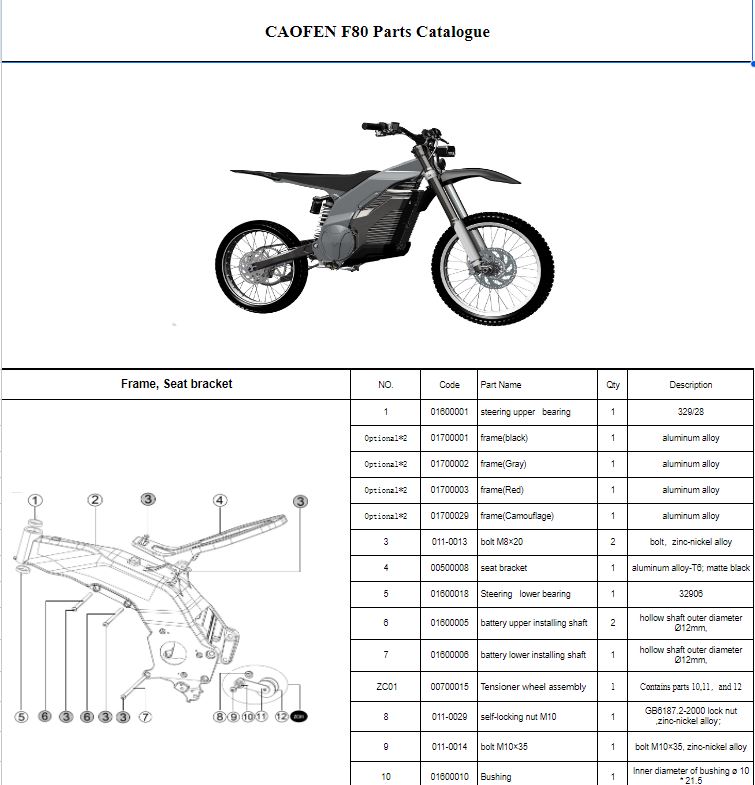 Caofen F80 Spare Parts
Videos