SUR RON LB-X
$5,600.00
Out of stock
"Built like a tank, Performs like a Ferrari"
Overview
Classified as Restricted Use Motorcycle (RUM) in Canada
Restricted on some roads according Provincial Road regulations. Check the regulations for use, registration and insurance for province:
How to Legally Ride Off-Road in Canada: fortnine.ca/en/how-to-legally-ride-off-road-in-canada
The Sur-Ron is a highly engineered electric dirt bike created by a new generation of Chinese entrepreneur, The "Liu Zhuo", who believes in the importance of quality and design. Made with only the highest quality parts the "Light bee", earned the German Red Dot Award for its design in 2018. Not only is every detail of the bike well thought out, it looks as if a legacy power sports company took part in manufacturing it. Sur-ron spent over a million dollars in tooling to create this bike and this is evident in the design and execution.
Upon visiting their assembly factory in Chongqing we were amazed by the robotic cars moving from section to section and their advanced level of automation. The test stations were equipped with high end dyno machines simulating the performance of the bike in different conditions and a large display was showing detailed results from the motor, transmission, brakes and suspension.
Motorino has been working for over 15 years with electric cycle manufacturers from China but working with the Sur-Ron manufacturers was a brand new experience. Their professionalism, integrity and warm response helped us to successfully complete the testing and certification of their products for the Canadian market
Motor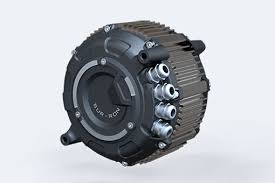 With 6000W of power and a large RPM reduction between the motor and rear wheel, the demand on the battery is lowered, and the motor runs cooler.
Axial flux electric motors have one of the highest usable power and torque densities of any electric vehicle drive motor available on the market today as opposed to the common radial flux. Because of this they can deliver the most power in the smallest package possible.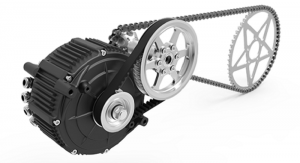 As you can see from the picture, the Sur-Ron Light Bee X uses a 2-stage drive. The first stage uses a belt to make the high-RPM quieter, and the second-stage uses a chain to manage the high torque that is being applied to the rear wheel. By having a 2-stage drive, the motor can run at very high RPM, which helps the input power to remain as efficient as possible, while still providing the target "wheel power" with as little motor heat as possible.
Battery and Charger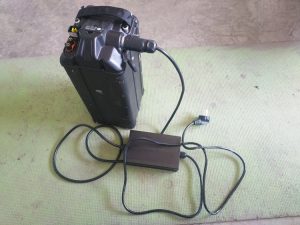 The battery consists of high ratio 18650 battery cells, high power B.M.S., SOC battery statistics, 4 real-time temperature sensors, and a host computer management process and data interface, the battery is able to have excellent high ratio load capacity, a longer life, and very high safety and reliability
The battery case is removable and It's light enough to take it home to plug it in.
The battery is the most important and most expensive component of every bike. High energy density batteries are not cheap, and if they are cheap, they are not reliable. The Sur-Ron has an enormous 60v 32ah pack which is 2000 watt-hours. The battery consists of Panasonic PF cells in a durable case that slides into the bike. These cells have a high discharge rate that allows them to be used continuously at maximum power without deteriorating their life.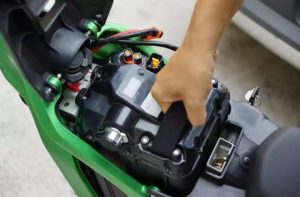 These batteries can also be charged with a higher current so the bike is equipped a 10A charger that halves the typical charging time of a pack of this size from 5-6 hours to 2.5-3 hours. The charger is also a solid-state built-in cast aluminum case with an external cooling fan. Because of the safe high charge current, this battery readily absorbs the high current from the regeneration function of the controller more efficiently than any other battery.
Controller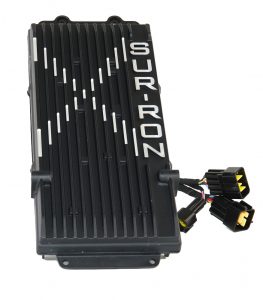 Sine wave controllers are the latest in brushless motor controllers which smooth out many of the rough edges of the old school "square wave" controllers, resulting in 30% less noise. The next big difference that you will notice is much smoother throttle response off the line. Sine Wave controllers are digitally controlled and programmed, resulting in a much smoother and more predictable power curve throughout the entire range of operation.
This controller is a perfect match for the Axial flux electric motor resulting in 20% more torque than square wave/radial flux drive train combination.
This controller has re-gen coasting which comes on when coasting at speeds of over 8mph. Re-gen braking puts charge back into your battery and most importantly preserves your brake pads.
You can also turn re-gen off by hitting the "eco" switch whenever coasting and you will roll naturally without any re-gen resistance. This means you can coast like a bike when you want to.
Frame
The Sur-Ron frame is a masterpiece of technology. It's designed by the same software that was used to model the famous Bird Nest stadium in Beijing, simulating the dynamic impact forces to the bike. It is formed with a massive 6,000 tone press which changes the internal structure of the aluminum which makes it three times stronger. This also allows the total weight of the main and sub frames to be reduced to only 7.8kg! The frame is inspected by strict quality standards and dynamically tested with high-pressure and shear impacts.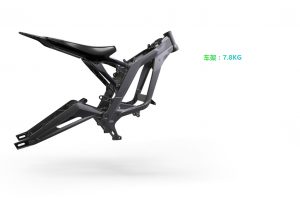 The rear swing arm is also constructed in the same way to make it as light as possible, while still being strong enough to do the job of taking significant jumps. The rigidity of the frame allows for high stiff shocks to be used by shortening the lengths of the rocker arm.
Suspension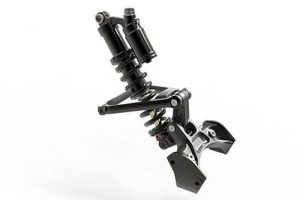 The Sur-Ron has a very forgiving and responsive suspension with tons of travel. The available power from a standstill is enough to get it up on it's back wheel, but the throttle is sensitive enough to modulate the power perfectly. The rear wheel is driven by a motorcycle-grade drive chain that can deliver all 6000w of available power.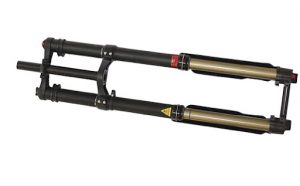 The Sur-Ron is equipped with DNM Volcano front suspension with RST OIL+SPRING dampening. It's made with MAGNESIUM, weighs in at 3.1Kg and has adjustable pre-load & compression. It's equipped with Fast Ace 8-inch travel rear suspension. The shock is actuated by an additional linkage to help make the compression as progressive as possible. This means that in the first half of its compression, the swing arms response to road irregularities is very light and sensitive (which provides a smooth ride when riding fast) and the second half of the shock compression is much stiffer, which is necessary for those times when you take a big jump.
The Sur-Ron is designed for serious off-road riding. Thousands of jumps have been performed by professional riders and stuntmen, confirming that the suspension system on the Sur Ron is rock solid.
Specifications
DRIVE SYSTEM
Motor – Air-cooled Permanent Magnet Synchronous Motor

Motor Rotating Speed – 4500 RPM


Rated Voltage – 60V (DC)


Traveling Wave current 100A


Rated Power / Peak Power – 3.6kW /6kW


Rated Torque / Peak Torque @ 4000rpm– 10.2NM / 37.8NM


Max Torque on stall – 200N/M


Gear Ratio – 1:7.6


Transmission mode – Belt + Chain
Motor Controller

External FOC with dynamic vector control algorithm


BMOS connected and controlled electronic components
Max Speed

77km/h
POWER SYSTEM
Standard Battery Pack

60V 32AH Lithium-Ion with 176 Panasonic 18650 cells removable pack
Charger

10A Cast aluminum with external fan
Charging time

2.5 – 3.5 hours
Power System Protection

120A electronic protection, low-voltage cut-out (by controller), Battery protected by BMS
User-removable Battery

Yes
USB Charging Port

Yes
Bluetooth Sound System

No
Brakes

Sur Ron hydraulic 4-piston disk brakes, 220 mm Front & 180 mm Rear
RUNNING GEAR
Electric Brakes

Regenerative, acting on rear wheel (via hub motor), triggered by front or rear brake actuation
Front Absorbers

DNM Volcano Dynamic Up-side-down Hydraulic Absorber, adjustable Preload and Rebound
Rear Suspension

DNM Dynamic Absorber With Intersect Suspension System
Front Wheel

Aluminum Alloy Spoke Wheel, Front 19 X 1.4
Front Tire

70/100-19" tubeless motorcycle grade off-road
Rear Wheel

70/100-19" tubeless motorcycle grade off-road
Rear Tire

110/70-17" tubeless motorcycle grade DOT-spec
BODY & CHASSIS
Chassis Material

No. 6061 T4 & T6 Aluminum Alloy
Chassis Process

Method Forged By 6000 Tons Pressure
Seat

Padded seat, double place, 76cm (30") above ground
Instruments

Black&White LCD screen displays Current Speed, Max Speed, Total mileage, Trip distance and Error codes.

 Black&White LCD screen displays Battery charge percentage (mounted on the battery).
Range
| | |
| --- | --- |
| | Single Battery |
| Eco mode (50 km/h) | 80 km |
| Sport (77 km/h) | 40 km |
Climbing Ability
Load
Incline[%]
Degree
[Kg]
[Lbs]
60
132
70
35 Deg
75
165
60
31 Deg
90
198
45
24 Deg
105
231
35
19 Deg
120
264
25
14 Deg
DIMENSIONS & WEIGHTS
Weight (Including Battery Pack)

55kg (121lb)
Battery Pack Weight

13.5kg (30lb)
Wheelbase

126cm (50")
Minimum Ground distance

27cm
Seat height

74cm (29")
Overall Length

187cm (74")
Maximum Payload Capacity, Including Rider(s)

130 kg (287 lb)
Optional Accessories

Extra battery


GPS tracker


Chain lock


Front & Rear Fenders


Alarmed disk brake lock


SuperMoto 17″ Wheel Set

 Steering Tube lock

 Brake Handle protectors

 Upgraded Brakepads


Helmet


Goggles


Heated gloves


Leather gloves
Downloads
Sur Ron LB X Owner's Manual
Sur Ron Parts Catalogue
Videos
Only logged in customers who have purchased this product may leave a review.