Vancouver's Motorino evolves from electric scooters and bicycles to EV motorcycles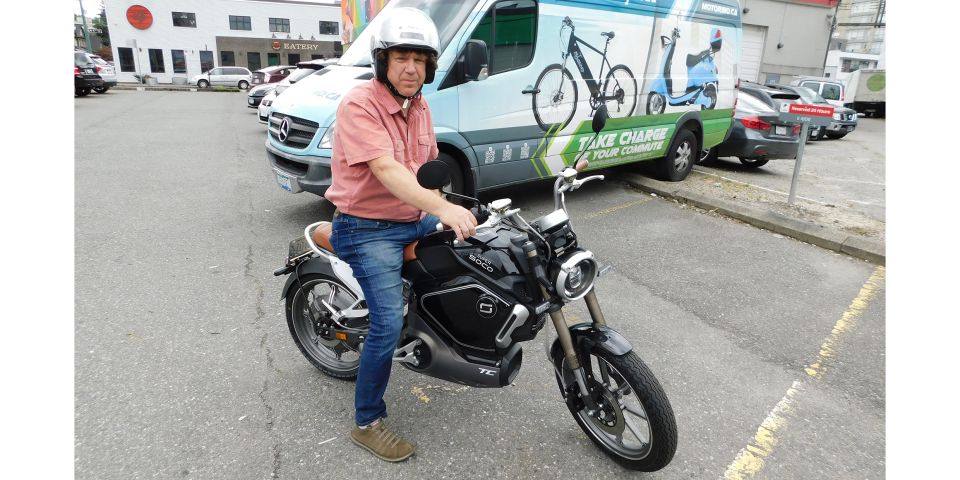 For a small business owner, realizing a dream is the ultimate goal. By that measure, Steve Miloshev has achieved success beyond his wildest dreams.
During the past decade-and-a-half the owner/operator of Vancouver-based Motorino has seen many of the technological innovations he dreamt of come true, from lithium-ion battery powered scooters to all-wheel drive electric fat bikes. Most importantly, he's watched as EV bicycles have gone from oddities, even pariahs in some cycling circles, to mainstream urban transportation.
"When electric bikes first showed up the perception was they were for lazy people, or for people who can't ride a regular bike," Miloshev is saying in his West 2nd Avenue showroom. "But then the younger population embraced the EV bikes in Europe, so then the over-50s bought in too."
European EV bike sales have exceeded regular pedal-bike sales in the past two years, much of that attributable to the European Union setting standards for the battery-assisted bikes, thus compelling the Chinese manufacturers to improve the build quality, reliability and battery systems.
When Miloshev opened Motorino in 2003, the focus was entirely on electric scooters, the kind of two-wheeled commuter transportation perfectly suited for Vancouver, particularly the downtown core
"A few years later we added electric bicycles but stopped selling them as they weren't very good back then," he says. "We then brought bicycles back in about five years ago because the quality had really improved."
A couple of years ago when I interviewed Miloshev, he said his dream would be that some of his products would have lithium-ion batteries in them, figuring that would be in about a half-decade's time. That dream was realized much sooner and there are now a number of scooters on the Motorino showroom floor his lithium-ion batteries. Better still these scooters are light enough that you can pick them up and move them around.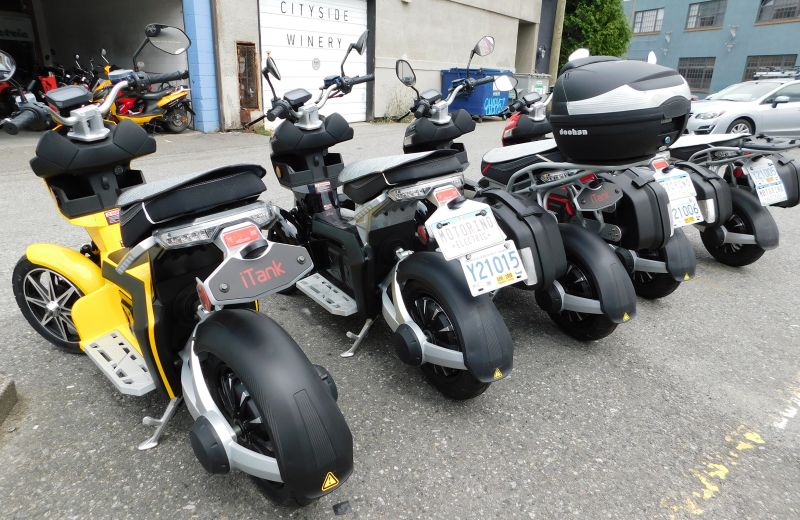 And now he's bringing electric motorcycles to Vancouver as the exclusive dealer for two up-and-coming brands, Australian-based Soco and Chinese manufacturer Doohan.
"This is something I'd never imagined we would be selling," he admits of the Limited Speed Motorcycles, or LSM (meaning they do not exceed 70 km/h and you just need a regular Class 5 driver's license to operate one. Regular registration and insurance also apply). "They are both very well-built and well-designed."
The Super Soco TC, rebadged as the Motorino GTC, is very much a traditional-looking two-wheeler, apart from the fact it has no exhaust pipe. Designed by a former Honda motorcycle engineer, the Soco features high-end components, including Bosch motors and a 1,500-watt Panasonic battery pack, and like Tesla batteries there are spaces between each cell to allow for better cooling. In addition, each cell is individually connected so if one goes bad the battery still works. The GTC retails for $4,900 before tax. Add a second battery pack to increase the full-charge range to near the 200-kilometre mark and that price jumps to $6,400. Motorino also offers a smaller battery-version, called the Soco TS, or Motorino GT. This 1200-watt version goes for $4,400 with an additional $1,330 for the second battery pack.
The other electric motorcycle Motorino has brought in is not your traditional two-wheeler. The three-wheeled Doohan iTank features an advanced two-battery system along with a computer-controlled battery management system.
"I've been riding one for a year now, and maneuverability of it is amazing," Miloshev says. It has a 30-degrees turning radius. And the three-wheel setup gives you way more confidence when doing tight turns than a two-wheeler."
But he cautions that just because it has three wheels doesn't mean riders don't require a good sense of balance.
"People say they might buy one for their dad, but I tell them it still requires balance. It's a floating suspension. It's also a very powerful bike, and with dual disc front brakes it is very safe, braking more like a car than a two-wheeler."
The dual battery iTank has a price tag of $5,700.
Just as with the electric car industry, innovation spurs the electric scooter, bike and motorcycle segments, and Miloshev points to a number of 'coming-soon' tech advancements that will only make the vehicles more appealing and user-friendly.
One is biometrics, and the Motorino owner expects to have a cutting-edge electric motorcycle for sale in his shop soon that instead of having a starter key, the owner will just use there fingerprint to unlock and start the bike (like a smartphone).
Cool factor aside, he says the real benefit will be the security aspect. He says there is currently an 'epidemic' of stolen scooters in Vancouver.
"Another innovation coming to our products is 'witness cameras,' very important for scooter and EV motorcycle owners."
And still more innovation is the VCU, or vehicle communication unit, that will allow Motorino techs to monitor and in some cases fix motorcycles remotely over a wireless network.
"The bike is constantly doing a self-testing of all its components and reports everything to a server. As the exclusive distributor we are going to build those servers here."
When the bike discovers an issue with one of its components, an email is sent directly to the customer to say it needs to be brought in for service.
"Or, we hope to develop the system so we can fix the bike from here over the network."
On the EV bicycle front, Motorino will soon be stocking the lightest EV bicycle in the industry, called the Electric Roadster and built with commuters in mind. There's also an off-road fat bike, an all-wheel drive machine with motors on both wheels.
So is Steve Miloshev all out of dreams? Doesn't sound like it.
"My next dream is a highway motorcycle, one that could go more than 200 kilometres on a single charge," he says.
"It's an amazing business, really. For me my dreams — in terms of products — come true almost every year. Things just get better every year."